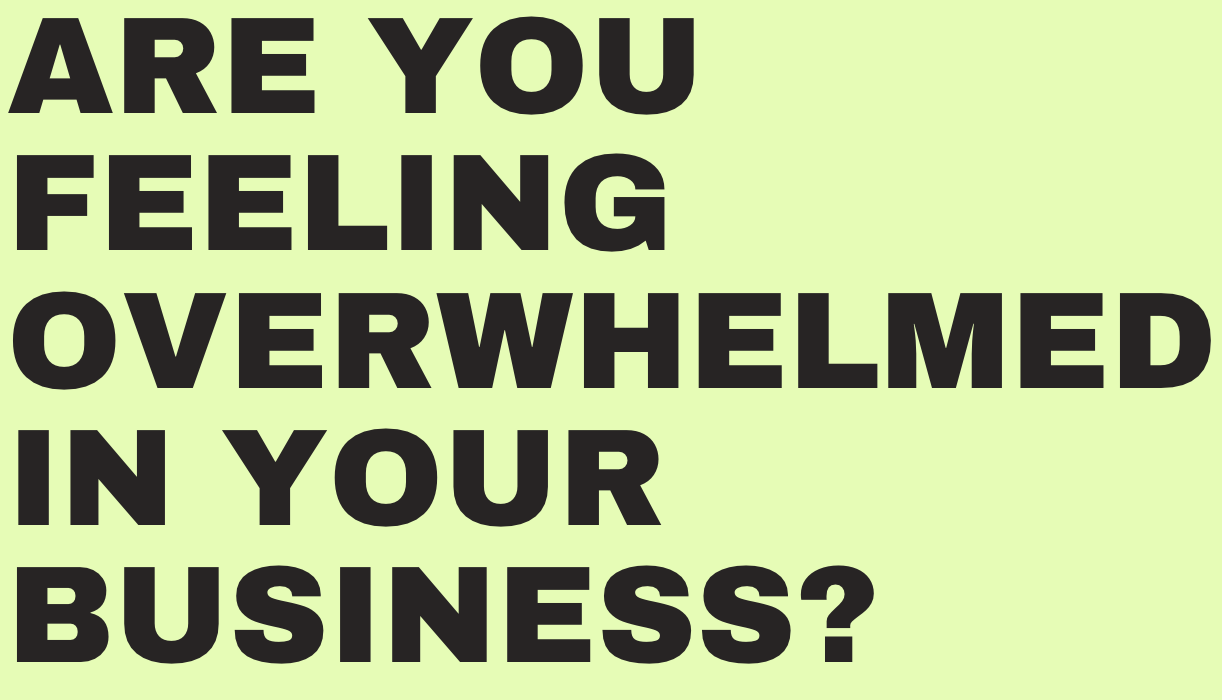 I assist influential, high-achieving, big energy business owners to create the systems, plans, and structures to experience the freedom they deserve.
It is Monday morning, and you sit down to have your team meeting. You log in to Zoom; faces are staring back at you. They are waiting for you to give them the instructions on the game plan for the week.
The meeting begins, you layout the launch, the emails, the dates, the price, who is responsible for what, the software systems we are using, and all of the other details.
Finally, the meeting ends; you take a deep breath and already feel worn out. You haven't even started the week yet.
You look up at the sky outside your window, hoping someone will fall out of the sky to help you launch this product.
At this point, you are ready to move onto the project you have been thinking about for the past month, which you want to launch in six months, but you are stuck trying to figure out who is going to load up the email sequence into your CRM.
You ask someone to do it, but you forget because you can't remember which of the ten forms of communication tools you used.
You only have 10 mins to figure it out because your kids are about to bust through the door and say, "I WANT A SNACK," like they haven't eaten anything in the last five years of their life.
So you copy the email, insert the email into your email delivery system, and paste, then the formatting is all screwed up, so you fix it and now schedule it.
Cue to your life force leaving the building because you have been sucked dry of task hell. You have 2 mins before snack time, so you walk to the kitchen and eat a bar of chocolate or potato chips, trying to get your life force back.
Kids enter = Lifeforce GONE.
In bed, you prepare for the day tomorrow. And think about how the heck I'm going to keep this up.
A thought enters your mind; I would love some assistance in my business. I would love someone who is fully supporting my business, allowing me to feel alive again.

"Work with Mike if you are at all in a rut or want to hit your next level of possibility, he is the perfect masculine container for big energy business owners!
I went to see him for what I thought was just operations strategy... and I came away with so much more.
He IS a genius at operations and can also hold space for all the emotions of business like a mofo.
He has me taking more of the right action in our 4 months of working together than I had in maybe a year.
I went from feeling pretty uninspired with my business to generate over $250k in contracts, paying off over $30K of debt, and getting more client interest than I know what to do with at the moment.
Now, we're putting a plan in place for sustainable, fun, and easeful business creation. Thank you, Mike! Best investment of 2021."
You are the one with the big ideas.

You are a rarity in the business world.

You know there is a problem, and your business will fix it.
Are you supported in your business operations? Do your ideas always seem to fall to the wayside because everyone feels overwhelmed?


Then if you have a family, kids, and other responsibilities outside of your business.
Forgot about it, throw in the towel, there is no hope, and the time has come to close the doors of your business.
Completely kidding here, but I bet you have felt like that before.
Instead of feeling overwhelmed, let's create a business where you are fully supported.

"Mike has helped guide me through patterns of limited financial thinking.
Breaking through these beliefs I have felt more confident and trusting that I can acquire financial abundance.
That limited way of thinking had been blocking me from feeling secure, my entire life.
During our time together Mike has reminded me that the biggest limit I have in life, is the limit I put on myself.
Mike has reminded me of what it means to dream big, and how often we dream too small."
Here is what happens when your team is supporting you:
Imagine you get to the office after a fantastic night of sleep, you turn on your computer, your team has emailed, the launch is ready to go, and all you have to do is show up for a sales webinar or call today.
You don't have to worry about email funnels, making sure the customers have the links to the call, managing the customer service inbox, and posting to your social media.
After the sales call, you had a team meeting, where your team shared a way to create another $100,000 in revenue without you doing anything else.
Wait a sec, let's say that again. Your team is creating more revenue without you doing anything else.
Yes, it is possible.
How does that feel in your body, and how is your central nervous system doing now?
I bet it feels pretty damn good; you deserve this business.
Not the business where you feel like you are dying inside or your nervous system is constantly going haywire.
When we create what we deserve, this allows us to relax and spend the time working on the activities which bring us joy, pleasure, and power.
The easy part is creating another source of revenue.
The freedom part is allowing other people to focus on making revenue.
Together we will create a systemized plan of action, so your creative ideas become a reality.
If you have a concise plan of action, that means more time, more money, more energy, and more results for you.
As we start our business, we do everything ourselves. But, as we are building our business, we crave rest and space.
Resting is more potent than pushing.
Your superpower is learning to grow your business while letting go at the same time.
That might sound counterintuitive, but it's true.
As you're developing yourself as a leader, you are letting go of specific responsibilities.
As you're hiring people, you're letting go.
As you're making more money, you're investing the money instead of it sitting in your bank account.
We live in a society with a belief we have to show up for everything to be successful.
You don't; it is impossible to show up for everything.
Together we will make sure you have the support in your business.
Business owners get stuck in the weeds spending time on things they shouldn't be doing anymore.
When it comes to hiring people, you want to make sure the people in your company are there to help ease the day-to-day operations of running a business.
You might think this support only applies to your business, but it doesn't.
It applies to your home and family, as well.
We will cover this in our sessions to create the support you need on the homefront. If you don't have someone at home helping with the laundry, cleaning, and maybe even cooking food, there is no way you will be able to show up for your business entirely.
We will cover the team for your business and the team for your home in our sessions.

"Mike is absolutely phenomenal. The conversations we had helped me to unpack a lot of psychological baggage that was limiting me from tapping into the mindset necessary to know I am worthy of success and wealth in business.
I knew I was functioning from a limited capacity on a business level but had no idea it had so much to do with trauma and childhood experiences. I truly feel that there was a breakthrough on a spiritual level from the questions and activities he facilitated.
I have not only seen a difference in how I see myself, but also a difference in my family dynamic. It's funny how so much of your business success depends on you as a human being.
I now know that I am worthy of success, I am worthy of millions of dollars and I am skilled and talented enough to execute the steps it takes to achieve business and financial success.
I highly recommend allowing him to help you."
I'm Mike Watts and I used to make cigarettes but now I am doing this...
In 2013, my wife, Kate Northrup, and I created a company together.

The company was an online education platform for business owners to revolutionize their relationship with work, time, and money.
We did this through online courses, membership community, speaking gigs, events, two published books, a podcast, and other services.
The management and logistics of our business are my sweet spot, so I focused on those. Kate is outstanding at content creation, networking and she held the vision for the company.
As a partnership, learning our strengths was the key to thriving. Once we understood each other's skills, then we built around those.
We learned how to build a life and business together.
Our first year partnering in business, we brought in around $150K in revenue, then we doubled it the next year, doubled it the following year, remained steady the following year, then doubled it the year after that, and so on.
We started with a small team, and then we added more team members. Finally, we learned to let go.
Right when things were falling into place, we decided to get married, have two kids, build a house, then we uprooted everything and moved to Miami.
Our structures, boundaries, and roles were required to change.
But, unfortunately, society likes to pretend everything is supposed to remain the same for the rest of our lives.
Here is a better way to think about your business.
Imagine yourself standing waist-high in the ocean. The sun is warming your face. Your eyes are closed, then the next thing you know, you are hit in the face with a big wave.
You fall to the sand; water is flowing over your head. You start to panic because you feel like your life is flashing before your eyes.
But then you remember you are in 2 feet of water, so you stand up.
You face the water and see another wave coming at you; you lock your feet in the sand.
The wave hits you, and you realize you are going to be alright.
You are the masculine standing in the water. The ocean is the feminine.
As we are working together, we are setting up the masculine structure of your business.
The masculine structure will allow you to be as calm or as wild as the ocean. And the business will keep on running since you have the systems in place.
At this point, you might be wondering how you create these structures.
The consulting experience focuses on your business and your relationship with your business.
Therefore, this consulting experience is individualized to what you and your business need.
In this system, we will cover these four areas of focus:
Together we will make sure you have the support in your business.
Business owners get stuck in the weeds spending time on things they shouldn't be doing anymore.

When it comes to hiring people, you want to make sure the people in your company are there to help ease the day-to-day operations of running a business.

You might think this support only applies to your business, but it doesn't.
It applies to your home and family, as well.
We will cover this in our sessions to create the support you need on the homefront. If you don't have someone at home helping with the laundry, cleaning, and maybe even cooking food, there is no way you will be able to show up for your business entirely.

"I don't have many people on speed dial, but Mike will always have a spot on there in my phone.
From priceless business advice to helping me with personal relationships, he's been a valuable friend and resource. If you get a chance to work with Mike, do it!"
We will cover the team for your business and the team for your home in our sessions.
Are Your Systems Supporting You?
How are you keeping everything organized when managing projects, communications, calendars, and keeping the team on the same page?
Your systems and software are the arteries of your business.

If you have too many communication tools, the team doesn't know where to get the correct information.
What do I mean by too many communication tools?

Skype, Slack, Zoom, (insert) project management tool, Voxer, email, phone calls, text messaging, etc.
What are you using to communicate with your team?

"I didn't know what was happening."

How many times have we heard this from our team?

Streamlining communication will save you money and eliminate the shiny object syndrome.
"The biggest takeaway from my time with Mike was, "Work smarter, not longer."
I'm not into the rah-rah business coaching - I like to dive into the nuts and bolts of operations and get clear on what's working and not working, and I needed an outside point of view. Mike is real, no fluff, and lots laughter and fun.
I genuinely like his personality and really value his leadership. I worked with Mike with the goals to streamline processes and roles within my business.
Over the past three months, we've gotten clear on our roles and have operated more efficiently than we ever did.
For any business that is clear on their mission and has experienced some recent growth, I think Mike is an absolute MUST if you want to take it to the next level."
Better communication and less tech save time, money, and headaches for you and your team.
Do you have Financial CLARITY?
Money, money, money. It's the lifeblood of your business unless you are a company that has raised millions of dollars without generating any sort of revenue yet. Yes, they do exist.
Your business needs to make revenue and generate some profit so that you can buy those organic blueberries or diapers for your kids. Or maybe you want to take a real vacation or create an app or invest in new machinery for the business.
Having financial clarity is by far the most crucial aspect of running a business. But, of course, if you run a nonprofit, this applies to you as well.
The company I built with my wife went from overspending by $150K in one year to turning it around and becoming 400% more profitable without increasing revenue.
I'll show you how we did that.
Getting your finances under control will ease the stress of the business.
Being in debt has become the norm; we don't have to live that way.
We are all born with a financial blueprint regardless of our upbringing. The key is to discover our blueprint and work to recognize how it affects our business.
During our time together, we will take a deep dive into the income and expenses of your business.

If you want to create freedom in your business, this starts with getting your finances under control. Together we'll review your income and expenses to make sure your finances are in order.

"I have had the opportunity to learn from Mike working with him directly and also through observing his interactions with others.
Mike has a genuine desire to help improve the lives of those around him by providing a lot of passion and sincerity in his efforts. I also have had the pleasure of knowing him personally and I have found him to be a lover of life and everything it has to offer him.
I believe from his experiences that he has truly learned to bring out the best in people. To work with and be around Mike is truly inspiring."
We want to make sure you are getting yourself paid and don't have to live paycheck to paycheck in your business.
What products are you selling?
What the heck are people buying?
How many different product offerings do you have?
Which ones are bringing in the most revenue?
Which ones are the most financially and energetically expensive to deliver?
Are your offerings pulling you in too many directions?
Memberships, courses, speaking gigs, physical products, online products, drop shipping, social media platforms, and more.
The options are unlimited.
It's time to eliminate the confusion when it comes to selling your products and services.
"Mike, just a quick note to let you know how much I have appreciated working with you these past three years. Your professionalism, experience, focus and humor have made working with you a pure pleasure.
I really admire your focus and vision for where you are going personally and in business, very inspiring.
To help others succeed we have to be the change and you Mike, exemplify that."
The four areas of focus listed above are the starting point in our work together.

"Since our one short chat over a year ago, I am now a Doterra Platinum leader (soon to be Diamond) and will be earning 6 figures this year.
That's more than I've ever earned at any job...and I get to stay home and raise my son in the process!
I've had a lot of ups and downs, as well as tons of help and training along the way, but I still count that one chat as the pivotal moment where I made the decision to push forward and not give up.
As I step into this new reality of financial freedom, I've been making my rounds to thank everyone who inspired and encouraged me to keep going, and you are certainly amongst that group.
How amazing that you helped change another person's life (mine...along with my 3-year-old son's) simply by taking a few minutes to talk with a complete stranger. Thank you for that, truly...You were a blessing!"
It is time to bring the fun back into your business.
As you decide whether or not this consulting is what your business needs, I will leave you with one final story that I have been holding onto for over 20 years.
When I was around the age of 15, I was playing on this AAU baseball team. We were pretty good, and I was the catcher on the team.
It was sunny outside, and we were winning. I was excited. Then, finally, the batter came to the plate, the pitcher threw the pitch, the batter swung, and the bat hit my glove.
When a batter hits the catcher's glove, he gets to take first base since it is called catcher's interference. I was highly embarrassed since this was a big mistake as the catcher.
My coach yelled at me from the dugout to pay attention and don't make a mistake again.
During this time, I was tough on myself. When I would strike out, I would hit myself in the head with my bat as an example. Still to this day, not sure why I did this to myself.
Later in the game, I was back behind the plate, another batter came up, he swung and knocked my glove off my hand.
IT HAPPENED AGAIN!
I knew at that moment, and I screwed up. I felt shame, embarrassed, insignificant, and I let my team down.
My coach was pissed; he stormed on the field, yelling and pulling me out of the game.
He sent in my replacement to take my position, and I walked to the bench with my head staring at the ground.
It took me about 20 years to get over this moment.
I lost a tremendous amount of trust in myself over those years.
Let's make sure this doesn't happen to you.
One bad review, a customer refunds, your family talks shit about your business, your partner doesn't trust you, you go into debt, and you fail to make the money you told yourself you would by this specific date.
Your self-confidence is vital.
When I started to play baseball, it was fun. So I bet when you started your business, you were having fun.
Along the way, this fun might have diminished by something, someone, or maybe we are chasing those 6, 7, 8-figure revenue goals.

"Within 24 hours of meeting Mike, I saved $5000 on my monthly budget, had a new strategy for building my support team, and a clear vision of what needed to change in order to achieve my goals.
Then we really got to work. After 6 months of working together, I streamlined my systems, saved over $10,000 in duplicate services, and learned a laser-focused strategy for growing my business.
I launched my first podcast, launched two blog series, constructed a new product that is proving to be my flagship product, and most importantly, saw myself as the owner and CEO of a successful business. He demanded it of me and supported me through it."
You have reached a turning point; keep operating the same way you have been or make a change.
The next step is simple.
There are two ways we can work together. Review the options below and select the one that is the best for you.

If you are thinking you want to work on a more long-term time frame, I am happy to hop on the call with you to discuss what that would look like.

Sign up below...
Focused on one particular issue that is causing issues in your business or life
Zoom call or in-person in Miami
Quick down and dirty and we are out
Post Session - If you want to upgrade to the Full Package, this session fee can be used towards that package
One Deep Dive for 8 hours - We break everything down and rebuild it
8 follow up sessions after the deep dive day (used over the next 90 days)
Work with your team, if necessary
Deep Dive is in person or over Zoom

"I've been a solopreneur since 1992, and in all those years I've never received supportive business counsel from a man.
I've received ridicule, shaming, and demeaning from men - including my husband - but never support.
I can't tell you how amazing it felt to have Mike Watts - a man - give me honest feedback and guidance without even a hint of ridicule or shame.
Having him regard me as a worthy and competent businesswoman boosted my confidence - and that confidence is already showing in the way I'm tackling the homework he gave me.
He also helped me gain clarity on how to whittle down my debt, how to structure new pricing for offerings, we deleted the offering that was taking too much energy and not yielding enough income, created a marketing strategy that I can begin implementing immediately with no added staff, updated my website with powerful new copy and outlined the steps to launch my online course. "

"Just completed a systems and strategies VIP day with @mikejwatts, and it was so, so good!
As an entrepreneur, my strengths lie in the "big-dreaming" category. I've got a constant stream of ideas but have a hard time focusing on the day-to-day systems and organization.
Mike really helped me figure out my team, where I needed to grow as a CEO (like a lot of places), and really went into the energy of making money, how to clean things up with my partner, and how I manage things, etc.
One of my main goals has been to feel more grounded - in motherhood, in my home, on my land, and in my business (I have almost no Earth in my astrological chart so this is my big lesson in life!), and I know when it's time to ask for help. Mike helped me create a rock-solid foundation for my business from which to grow, so I'm no longer building my business house on sand.
He also talked to me about how to lead with my feminine side - in real specifics! So good to have some "man energy" in my biz, and Mike is so wonderful and a total genius. I can't recommend him enough."

"Working with Mike was so reassuring. He has a breadth of understanding, from the strategic to the technical, that allows him to see the big picture of a business.
It is from this place that he is able to give specific feedback and direction to accomplish long-term goals."

"Mike is a plain-speaking, no-BS kind of guy, who also happens to have a heart of gold. He is brilliant at helping you think through where you want to go by asking you the right questions - not just about your business, but about who you are and what you really want to do with your life, in your business.
Then he helps you construct a clear, concise plan for getting there. In the space of a single day, Mike was able to help me go from feeling like my brain was like a bowl of spaghetti to feeling super clear about where I'm going and what I need to do to get there.
I know that in 6 months, both my biz and I are going to be in a completely different place, and I'm REALLY EXCITED! I highly recommend taking the time and making the investment to work with Mike. You will thank yourself for it!"

"Mike Watts has gotten to the position he is in through integrity and execution.
He delivers on what he says he will do. A great coach and leader you should be following."

"Mike is a mix of practicality and masculine wisdom handed to women in a way that they can "get" and feel empowered to move forward in a way that serves them and their desires."

"Our initial consultation and eventual coaching with Mike was, by far, the BEST decision for our family and business. Ever.
We weren't in that $100k window just yet, but you better believe we are now!
Even better than the increase in income was the SPACIOUSNESS and newfound EASE in our life that resulted from the systems we put in place.
We were able to improve our bottom line in the same year we had our second child, and also established a creative studio for (my sanity and) a little art business to begin the thrive... we call that a win-win-win-win 🤗."
Copyright © NorthrupWatts, LLC